Enjoy convenient and cheaper EV smart charging at home. EZI-EV install your smart 7.3kW charger for free; you pay just £22.50 per month from there on in.
Benefit from your EZI EV charger featuring:
Solar Compatibility
Secure Cable lock system
Smart APP control
5-Year warranty
Nationwide Installation coverage
How EV Chargers work
The EZi EV 7.3kW charger is a single-phase AC unit, ideal for domestic use. The charging units come packed with features as well as a market-leading five-year warranty. With a compact sleek design and solar compatibility; these chargers have time shifting capabilities, a cable lock system for added security, free mobile monitoring app, and a dynamic load balancing system.
There are two kinds of 'fuels' that can be used in electric vehicles, these are called alternating current (AC) and direct current (DC) power, domestic EV chargers always use AC power. The main difference between AC and DC charging is where the conversion happens. No matter whether an EV uses an AC or DC charging station, the EV's battery will still only store DC energy. With an AC charger the energy is converted to DC power through the vehicle's onboard charger. AC chargers are perfect for long-stay parking, hotel overnight parking, office visitor/employee parking, overnight fleet and domestic charging, and long-stay public charging.
For any other further questions on how our EV Chargers work, please visit our FAQ's section here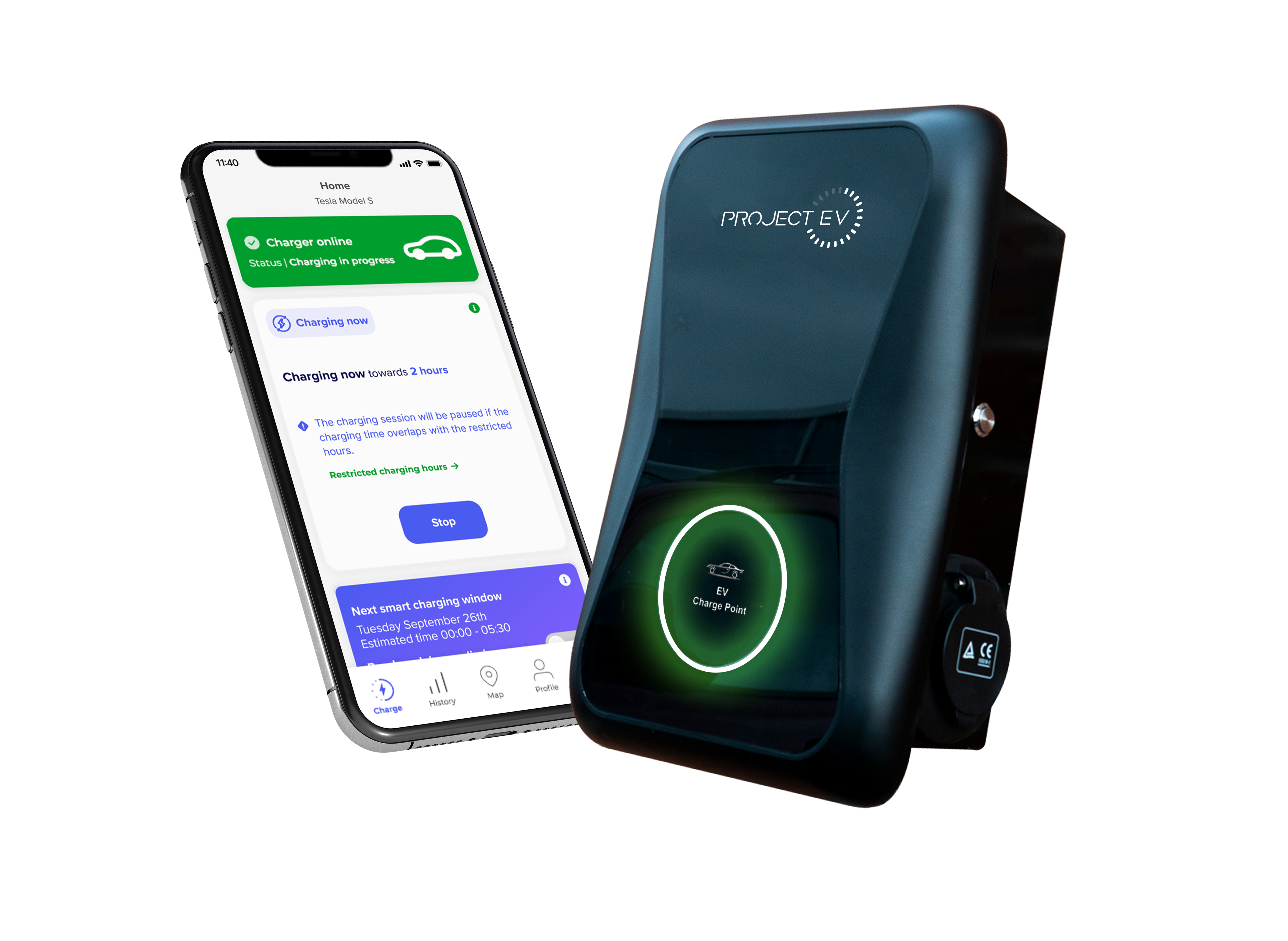 How to arrange a quotation and installation?
To generate a quotation and arrange installation of your EV charger, please click here

EZI-EV Domestic Installation Journey
Arranging and paying for an EV Charger installation has never been easier.
Click on the EZI-EV logo above
Supply your contact details.
Answer 3 questions related to your property.
Select how you plan to pay, buy-now or monthly finance.

Buy now – you will be asked to pay with your credit/debit card.
Monthly finance – You will be directed to the finance application questions.

Once the installation payment section is complete, you will be sent an EZI-EV SMS that gives you the link to an installation survey, enabling the installer facilitate your request
Once the EZI-EV installation survey is complete, the installer will review the submission, and look to contact you to discuss when you want your EV Charger installed.
Here's what you can expect from EZI-EV
5-Year Warranty - 5-year repair or replace warranty, granting you complete cover for call-out & remote diagnostic support. Also featuring app care cover through the Electric Miles telephone support team.
Smart Electric Miles SMART App - The smart way to reliably charge your electric vehicle – save money and reduce your carbon footprint, using our best home EV charging app. With Electric Miles, you can remotely start an instant charge, set charging preferences, smart charge during off-peak hours or by setting a spending cap, view how, when and by how much you've charged your EV, find public charge points near you, and be fully regulatory compliant, with off-peak and randomised delay charging
Dedicated Customer Support - Call Centre (8am-6pm opening times, Dedicated UK Based Tech Team, Field Engineers.
Flexible installation dates - Typically, you can arrange your installation within 7 to 21 days of the completion of your install survey.